Let's Go DPO - Session 1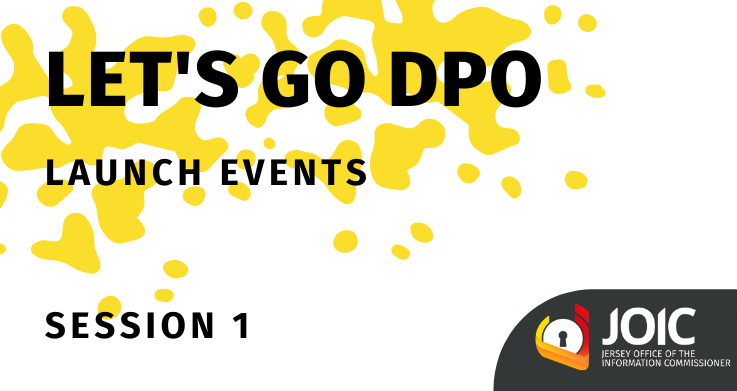 Responsible for data protection? Love to network? Then Let's Go DPOs and DP Leads!
Let's Go DPO is a new support network from the JOIC giving Data Protection Officers and Leads in our Island the chance to network, identify and explore common experiences and engage with our office in a safe and confidential environment.
The network's purpose is to promote compliance and awareness of the Data Protection (Jersey) Law 2018 and demonstrate our office's commitment to providing support to local Data Protection Officers and Leads by offering the opportunity for discussion and to contribute to our office's development of initiatives and other guidance, where appropriate.
Let's Go DPO provides a safe environment in which to:
Discuss the highs and challenges of being a DPO or DP Lead.
Share skills and ideas to help overcome some of the challenges faced by you in your role as DPO or DPO Lead.
Build working relationships for future collaborations.

Let's Go DPO demonstrates the JOIC's commitment to provide support to our Island's DPOs. To ensure all can attend we will be hosting two sessions of this event. The first session is:

LET'S GO DPO SESSION 1 - Wednesday 15 September 2021, 13:30 - 14:30. Interested? To reserve your space, email events@jerseyoic.org stating your name and please make sure the email subject title says 'Let's Go DPO Session 1'.
If you know of other Data Protection Officers or Data Protection Leads who would like to join the network, please forward them this link. We look forward to hearing from them.
Whilst we're hoping to host our events in person, there may be times when we may be required to host our events virtually. If this is the case our Events team will keep you updated.
Date / Times
Wednesday, 15 September 2021
1:30 PM - 2:30 PM
Location information
2nd Floor
5 Castle Street
St. Helier
Jersey
JE2 3BT
Upcoming Events