Exploring the remit of the Office of the Information Commissioner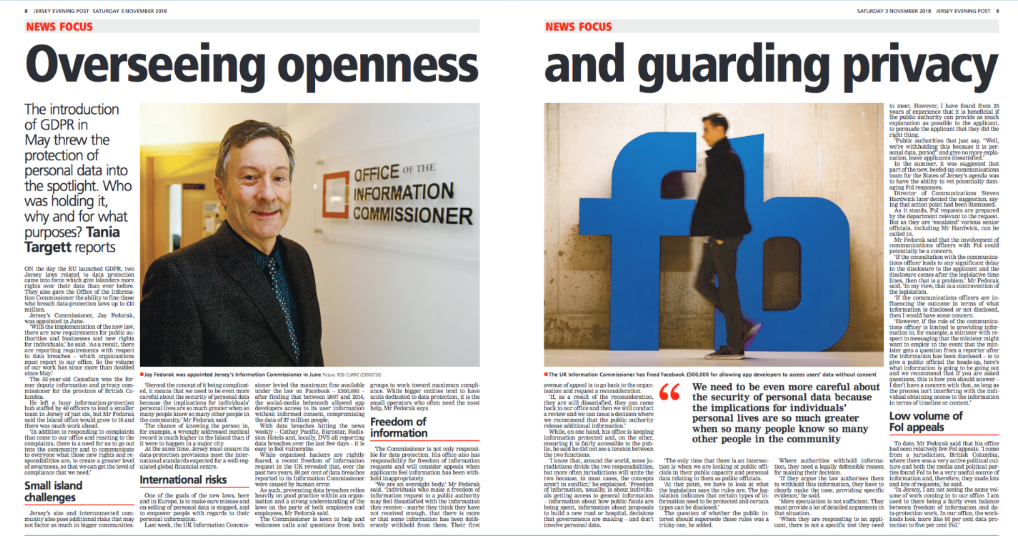 Ms Targett started by asking why the Commissioner role now and why Jersey? 'Jersey is an opportunity to join a dynamic island and team at a time of change, with the implementation of new laws and the emergence of new challenges within a new Data Protection organisational structure' explained Jay.
'My office provides islanders with timely and expert advice, in relation to all data protection and freedom of information issues. In our role as regulator, we encourage businesses to promote good information management practices and to perceive that the data protection law enables the use of personal data for all legitimate business purposes.
It is essential that our office helps to raise the international profile for data protection in Jersey, in support of the islands reputation as a well-regulated jurisdiction'
The team at the Office of the Information Commissioner is growing to meet the needs of the new legislation which enhances our individual rights and requires organisations to report breaches of personal information.
Ms Targett enquired if the Commissioner felt that islanders are aware of their rights in relation to both data protection and freedom of information. The introduction of the much-publicised GDPR (General Data Protection Regulation) in Europe including the UK, in May of this year, heightened public attention. The increase in numbers of enquiries and complaints to the office since May indicates that awareness is growing.  However, we believe that the recognition of the enhanced individual rights of the new Data Protection (Jersey) Law needs to be more widespread in our community.
The enforcement team takes seriously all enquiries to the office and investigates all data protection complaints. In certain cases, the Commissioner may make a final decision, where circumstances warrant.
The office is also the oversight body for the FoI Law. We are the avenue of appeal whenever a requester is dissatisfied with the initial response to their request and has applied for and received a reconsideration of the decision of the States of Jersey. Our role is to undertake a review and make a final determination of the correct application of the law to the requested information. The FoI Law facilitates transparency of public authorities and promotes the public interest.
We actively encourage islanders and organisations to contact us if they have any questions about any aspect of the laws, including their rights and responsibilities.