Jersey selected as host nation for Global Privacy Assembly Annual Conference 2024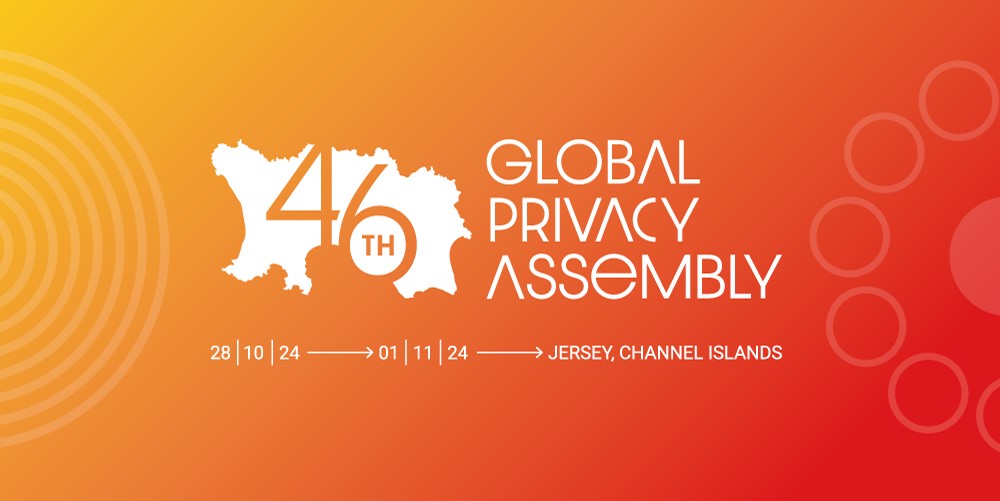 The future of international data protection and privacy regulation, including advancing technology such as Artificial Intelligence, will be discussed here in Jersey this time next year as the Jersey Office of the Information Commissioner has been selected to host the Global Privacy Assembly Annual Meeting for 2024.

The JOIC, Jersey's independent data protection regulator, won the bid to host this event, one of the largest and most prestigious in the global privacy ­­­­calendar, following a vote by members of the Global Privacy As­sembly.
The announcement was made at the final session of the Global Privacy Assembly Annual Meeting for 2023, which was hosted by the Office of the Privacy Commissioner for Bermuda, last week. Jersey Information Commissioner Paul Vane was present in Bermuda to formally accept Jersey as the next host nation.
Mr Vane said: "As Jersey's Information Commissioner, I am honoured and extremely proud that my office, and our Island, has been selected to host the Global Privacy Assembly Meeting for 2024. Whilst this is primarily a data protection and privacy conference, this is a real opportunity to showcase Jersey and everything our Island has to offer.
This annual meeting brings together all 138 Data Protection Authorities around the world to discuss major issues impacting upon privacy and data protection. It is a huge honour for both the JOIC and the Island, and we are now working hard to ensure the event not only delivers success to attendees in terms of relevant and stimulating content but also provides a platform to show Jersey at its best in terms of its beauty as a unique place and what it can offer to the world in terms of innovation, expertise and its renowned regulatory landscape."
Conference theme - 'The Power of i'
The JOIC has chosen 'The Power of i' as the overarching theme for the 2024 conference, centred around the core pillars of Individuals, Innovation, Information, Integrity, Independence, International, Intercultural and Indigenous.
The conference will highlight and explore the significance of the eight themes, which are intrinsically linked to encompass the harms, values and enrichment of our human lives. It will establish and explore how we can respect and balance the power of information with the need for citizens across the world to have power, control and dignity over their personal information.
Jersey's Minster for Economic Development, Tourism, Sport and Culture, Deputy Kirsten Morel, commented: "In today's interconnected world, where technology is constantly changing, safeguarding personal information and data privacy is not just a legal requirement, it's an essential measure.
The Global Privacy Assembly has been the premier global forum for data protection and privacy authorities for more than four decades, and welcoming them to Jersey will not only promote the Island as a visitor destination but also give us association with excellence.
By hosting the conference, JOIC is demonstrating not only its commitment to fostering the very highest standards of data protection for Islanders but also enabling a global conversation around its future."
Conference Schedule

The conference will take place from Monday 28 October 2024 to Friday 1 November 2024 and will include a welcome reception hosted in the Freedom Centre, St Helier. That will lead into two consecutive days of Open Conference Sessions available to anyone to attend from all business sectors, locally and internationally, held at the Royal Jersey Showground. These will be concluded by a Gala Dinner and Awards Night and lead into the two, half day Closed Conference Sessions for data protection authorities only, held at the Radisson Blu Hotel.

The JOIC is working with local partners, including Visit Jersey, to showcase Jersey to an international audience.
Tricia Warwick, Chief Executive Officer, Visit Jersey, said: "Visit Jersey is delighted to welcome the Global Privacy Assembly and its members to our island in 2024, and we congratulate the JOIC on being selected as hosts for this prestigious event. Jersey is a remarkable destination that offers the ideal balance of business and leisure, with breathtaking landscapes, incredible food, and exceptional experiences. We look forward to showcasing Jersey to conference attendees and welcome this opportunity to raise Jersey's profile to an international audience."
Commissioner Vane added: "The discussions will challenge and question who controls this power, for what purpose, and for whom. The conference aims to create a roadmap for the future, both short-term and long-term, to improve individuals' ability to self-manage their data, achieve greater equity in data sharing, and foster better behaviours and culture around the use of personal data.
The discussions will question whether current regulatory models are still relevant and fit for purpose, asking what the future of data protection and privacy regulation looks like and how do we safeguard our future generations. I very much look forward to welcoming my international counterparts to our beautiful island."
Early bird tickets for the 46th GPA are on sale now. To find out more about the conference including Travel, Accommodation, Jersey as a destination and Early Bird registration, visit the conference website www.gpajersey.com.

There are a number of exciting opportunities for sponsorship across this event. Interested in becoming a sponsor? Visit www.gpajersey.com/sponsorship. For conference updates follow the Jersey Office of the Information Commissioner on Facebook, LinkedIn, X and Instagram and search #GPAJSY2024


 Find out more about GPA JERSEY and REGISTER at www.gpajersey.com