Superheroes Go Global! Privacy Force characters shortlisted for International Privacy Award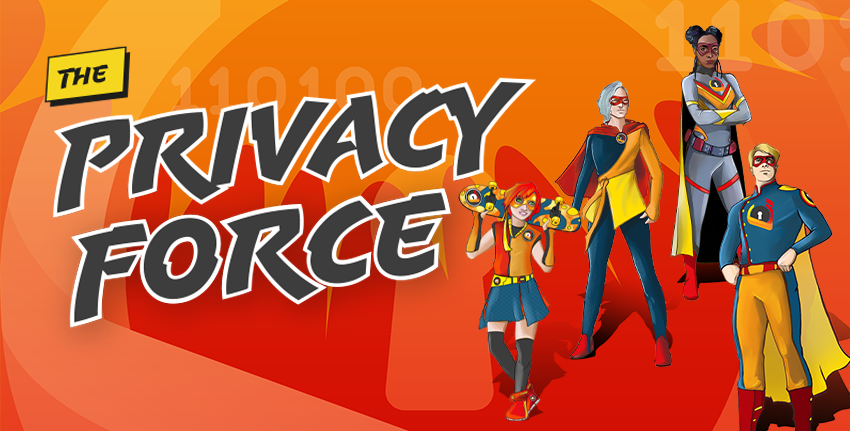 Are you a Privacy Hero? The island's data protection regulator, the Jersey Office of the Information Commissioner's 'Privacy Superheroes' have been shortlisted for a global privacy award.

The JOIC has been shortlisted in the Education and Public Awareness category of the Global Privacy Assembly's international awards for 2023, which gave more than 130 data protection authorities from around the world the chance to submit their examples of good practice in privacy and personal data protection.

The Global Privacy Assembly has been at the forefront of global data protection and privacy leadership for more than four decades and connects data protection and privacy authorities, worldwide. The judging panel, the Global Privacy Assembly Executive Committee, said competition this year was 'very strong'.

Jersey Office of the Information Commissioner Operations Director Anne King commented: "To be recognised internationally for our education and outreach activity is something our JOIC team is extremely proud of. We're a regulator but we're far from regular. Our aim with these characters is to drive a cultural shift and ultimately, to change behaviour, encouraging islanders to think about privacy and the protection of their personal details and that of others, instinctively. Since their launch during our Data Protection Week celebrations at the start of the year, our privacy heroes have made a huge impact and been embraced by Islanders of all ages at schools and community groups, to encourage us all to protect our personal information.

We want The Privacy Force to make data protection more accessible and relatable for Islanders, by creating awareness and conversation across our community, reminding people how to keep their personal information safe and to speak to us if they need support. Our superheroes are helping Islanders to hold those that handle their personal information, to account. There's much more to come from the JOIC superheroes so watch this space!"

The awards shortlist includes submissions from the Philippines, Spain, Bermuda and Australia and the winners will be announced in Bermuda in October.

To be continued..!